Roger Federer reels in Andy Murray to show who is No1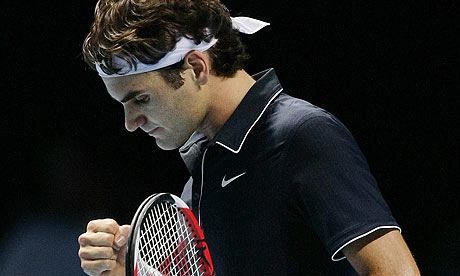 Roger Federer overwhelmed Andy Murray with a stunning display at the O2 Arena. Photograph: Sang Tan/AP

London becomes Roger Federer. Having won the Wimbledon title for six of the last seven years, the Swiss came from a set down in the 02 Arena last night to beat Britain's Andy Murray 3-6, 6-3, 6-1 with a stunning display of sustained attacking tennis over two sets that sucked the lifeblood out of the Scot.

With one round of matches left in Group A of the Barclays ATP World Tour Finals this result did not decide anything, although it did guarantee that Federer, for the fifth time in the last six years, will finish the year as the world's No1. Nobody who watched him pulverise Murray in the final set would have ever been in any doubt.
Murray was inclined to blame himself, notably his serve – and there were eight double faults. "I didn't play well. It happens sometimes. If you miss so many first serves you put yourself under pressure and I made more mistakes than normal." That may be true but it should take nothing away from Federer's excellence. He forced Murray into errors and then went for the clean, swift kill in a manner that has sometimes eluded him in recent times.
The complications of the round-robin format mean that nothing will be decided until the final two matches tomorrow when Murray plays Spain's Fernando Verdasco and Federer meets Argentina's Juan Martín del Potro, the man who defeated him in this year's US Open final and who beat Verdasco 6-4, 3-6, 7-6 in yesterday's opening match.
"If I win in straight sets against Verdasco, then I have a great chance," said Murray. The odds are that Federer and Murray will reach Saturday's semi-finals or at least that is what the supporters would love to happen, preferably with Murray playing Federer again in Sunday's final in front of another capacity crowd of 17,500. That would be dream time in the 02.
Murray, ranked No4 in the world, had played beautifully in the opening set,save for dropping his opening service game. It was immediately apparent that both men were very much up for this encounter, with a real frisson of danger in the air.
The 22-year-old had won six of their previous nine meetings, though the one that had really mattered, the 2008 US Open final, went Federer's way with some ease. Murray was determined to make his point again and opened with such poise and assurance, his backhand continually catching Federer off balance, that it seemed he well might.
All the leading players know that attack is the best form of defence against Murray, who has the guile and steadiness of shot to prolong rallies to breaking point. The first contained 23 strokes, ending with a mis-timed forehand by the Scot. Federer bent low, his concentration deep as Murray served, and secured the break with a roar of delight. It was exactly the opening he would have wanted, only for two forehand errors to set Murray on the road to an immediate break back. A net-cord lefthim with an easy kill and all waslevel again, though this time Federer was winded, his initial confidence punctured.
Sensing the mood switch, and even though the crowd were by no stretch of the imagination partisan, Murray went for the big hammer serve, twice reaching 133 mph. Then in the sixth game, with Federer double faulting for 0-30, Murray took control of the set at 4-2. Or so it seemed. Suddenly it was Murray under pressure and at 15-30 on his second serve a voice from the crowd halted him in mid-service action. He duly double faulted but to his great credit settled himself and managed to hold.
Federer is the great genius of modern tennis, having won every grand slam title and a record 15 in total. Murray barely had time to savour his advantage before the Swiss was at his throat, serving with a verve and accuracy to which Murray could find no response, and hitting winners of stupendous accuracy, freedom, and power.
Murray's hairline cracks widened in the sixth game as Federer broke for 4-2 and levelled the match. Both sets had taken 42 minutes, though it had seemed the Swiss, now in full flow, had won the second much more quickly.
Time was an illusion. Murray briefly managed to cling to the wreckage at the start of the third but all thoughts of stemming Federer's inexorable flow were quickly banished. This was Federer in his pomp.